Introducing Latte Pro - The Barista's Newest Friend
By: Wholesale Catering Supplies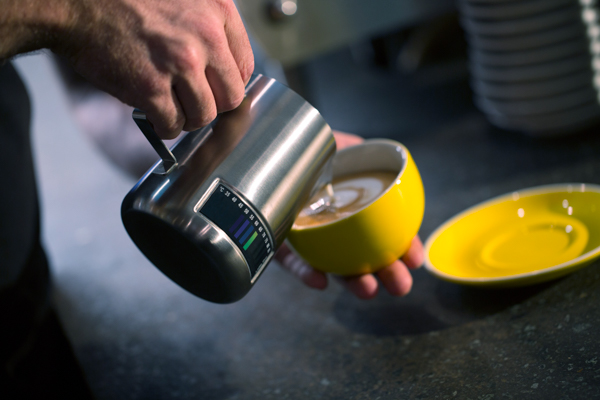 Latte Pro is a new and uniquely designed milk frothing jug that replaces the use of a stick thermometer in the making of milk-based beverages.
The Latte Pro is a brand new item in the Australian marketplace set to become everyone's favourite. With an integrated thermometer, the jug replaces the need for a separate probe thermometer. This eliminates the risk of cross-contamination, reduces spillage and drips, increases accuracy and assists in staff training.
UNIQUE TECHNOLOGY
With the latest in globally patented technology, the original Latte Pro is an uniquely designed milk steaming jug with an integrated thermometer on both sides of the jug. The Latte Pro is highly functional, cost effective, attractive and user friendly.
PERFECT COFFEE EVERY TIME
The LCD display instantly reads the ideal temperature to serve milk for any style of coffee or hot drink. Create consistency your customers will love, and remove the need for messy probes that risk cross contamination.
VARIETY AND STYLE
The sleek design comes in Stainless Steel, Copper, Gold or Black to match your decor. The Latte Pro is available in 480ml, 600ml and 1 Litre sizes and also comes with colour coded grommets that fit into the handle for easy recognition of milk type.
LATTE ART PRO
The specially designed spout is shaped to showcase your best latte art skills and with a label each side it is suitable for left-handed or right-handed users. It's a must have for every professional barista and coffee lover.
Benefits of Latte Pro Integrated Milk Frothing Thermometer:
Reduces waste
No cross-contamination
Increased productivity due to increased speed
Higher customer satisfaction
Lower OH&S and consumer safety risk
Easily visible and suitable for both left and right handed users
Supervisors can monitor training easily
Available in store and online NOW!
---
Leave a comment